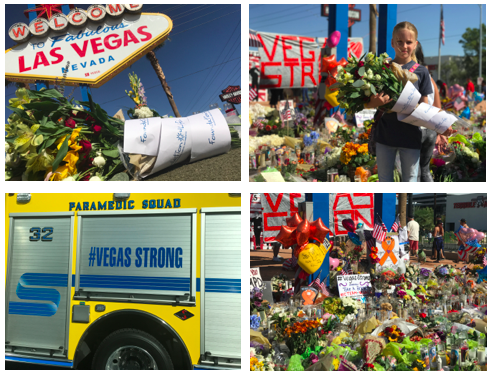 On Sunday, 4Life representatives visited a memorial in Las Vegas, Nevada to honor the 58 victims of the most deadly mass shooting in the history of the United States.
Retired Chicago carpenter Greg Zanis placed 58 crosses near the iconic "Welcome to Las Vegas" sign on the Las Vegas Strip. The crosses, each adorned with a red heart, will remain standing for 40 days before Zanis presents them to family members of the victims. The Associated Press (AP) reported that Zanis is responsible for erecting more than 20,000 markers in the past 20 years to honor victims of similar tragedies.
Currently, 100% of all Foundation 4Life donations are being matched by the company and earmarked for Hurricane Maria victims in Puerto Rico. However, 4Life executives are sensitive to the pain of those who have lost loved ones in the Las Vegas shooting.
4Life Founder Bianca Lisonbee: "As a company, we are incapable of responding to every tragedy with financial relief. At the same time, it is sometimes the smallest emblem of compassion that matters most. For Greg Zanis, it's 58 crosses. For us, it is our prayers for those who grieve and our voices for those who have lost their voice."
4Life has offices in 24 markets to serve a global network of independent distributors and their customers.
For more information:
Calvin Jolley
Vice President, Communications
4Life Research USA, LLC
[email protected]