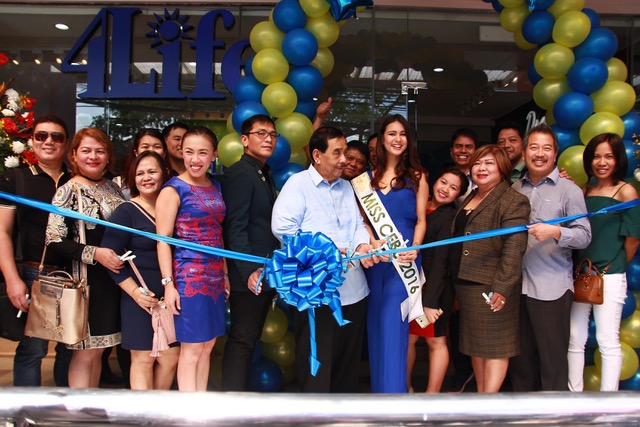 Salt Lake City, Utah (March 24, 2017) On March 18, over 350 distributors and guests gathered in Cebu City, Philippines for the opening of a new 4Life Cebu Business Center, the third 4Life branch office outside Manila.
Philippines General Manager Eileen Tan-Dario: "We are pleased to serve our distributors and provide them with important resources. The 4Life Cebu Business Center will support distributor efforts to build communities and bring 4Life Transfer Factor® and the business opportunity to more people in the Visayas region."
Distributor leaders in attendance included Gold International Diamonds Manny Koh and Mikhail Jan Jan Koh.
Cebu City's Vice Mayor Edgardo Labella and Miss Cebu 2016 (Gabriele Raine Baljak) also attended the event. Both expressed their desire to promote wellness among their constituents.
After the ribbon-cutting ceremony, distributors and guests enjoyed a success and opportunity presentation at the Cebu Waterfront Hotel.
4Life has offices on five continents to serve a global network of independent distributors through science, success, and service.
For more information:
Calvin Jolley
Vice President, Communications
4Life Research USA, LLC
[email protected]