A recent clinical study examined the effects of Gold Factor on knee joint health and function and quality of life. This peer-reviewed clinical study, published in June 2022 in the Journal of Functional Morphology and Kinesiology, found that drinking Gold Factor significantly improved knee joint health and function.*1 2 3
Gold Factor® is a unique cellular activator that supports healthy aging. Formulated with safe, ultra-fine gold particles in ultra-pure water, Gold Factor can support cellular energy, joint function, and more. Plus, we recently learned more about Gold Factor and the many ways it can support your body.*
Keep reading to learn more about this incredible Gold Factor study. 👇
Study Design
Fifty-one participants (24 male and 27 female, age 62.1 ± 13.1) were studied for 20 weeks throughout this three-phase clinical study. In the first phase, all subjects were randomly placed in a Gold Factor group or a placebo group. The second phase was a "washout" phase. In the third phase, all participants took Gold Factor.
Measurements were collected through a Knee Injury and Osteoarthritis Outcome Score (KOOS) survey and a validated clinical survey. Participants also completed physical therapy exercises with physical therapists and physical examinations with physicians or nurses.
KOOS Survey Results
This survey is divided into five categories:
Pain
Symptoms
Function in activities of daily living (ADL)
Function in sports and recreation
Quality of life
For each category, higher KOOS scores indicate better joint functions (See Figure 1 below). A score of zero represents extreme knee problems, and 100 represents complete knee function with no pain, discomfort, or other joint-related problems.
The figure below shows that all participants who took Gold Factor had increased KOOS scores in all five categories.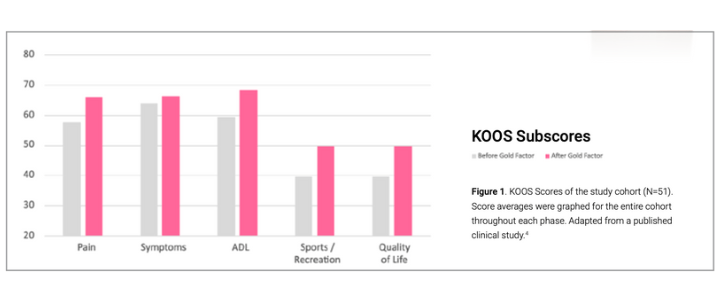 Clinical Survey Results
The clinical survey found that 71% of all study participants experienced improvement in their knee pain, and 61% experienced improvement in their knee stiffness. Additionally, 70% of participants indicated that they would love to continue taking Gold Factor after the study ended.*
In conclusion, the article states, "The study showed a statistically significant increase in KOOS survey scores for pain, knee symptoms, activities of daily living, sports and recreational activities, and quality of life after the participants' first two months (using Gold Factor)."
One of 4Life's four main values is Science, and we are proud of our scientifically backed products. This study is another reason to love and take Gold Factor.*
Hear the powerful testimonials from Gold Factor study participants!
Feel the energizing power of Gold Factor!*
Share this Gold Factor Study
1.Gold Factor on Knee Joint Health and Function 2.Gold Factor Joint Health Study 3.A Clinical Study to Evaluate the Safety and Efficacy of Oral Administration of Microscopic Dose Gold Nanoparticle (AuNP) on Knee Joint Health and Function in Arthritis Patients
*These statements have not been evaluated by the Food and Drug Administration. This product is not intended to diagnose, treat, cure, or prevent any disease.
External links provided in 4Life blog posts are provided strictly as a courtesy to blog readers who may find the linked pages interesting. 4Life is not endorsing these websites or vouching for the accuracy of any information found on these external sites.