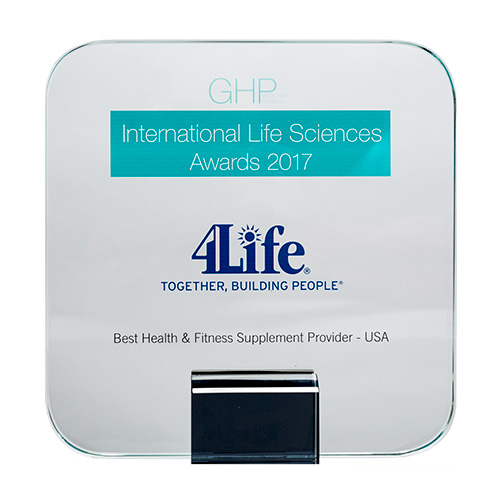 President and CEO Steve Tew announced that Global Health and Pharma (GHP) named 4Life Research Best Health & Fitness Supplement Provider in the United States of America for 2017.
GHP is an information network and multi-disciplinary community that publishes the GHP Magazine and focuses on three areas: Human, Animal, and Environmental Health. More than 260,000 wellness professionals and healthcare-related suppliers across the globe receive the magazine, including academics, industry professionals, governmental policy makers, and regulatory agencies.
Tew: "We invest millions of dollars to ensure the highest level of quality in every step of research, formulation and manufacturing. It is an honor to be recognized by the GHP as the best health and fitness supplements provider in the USA."
4Life received the award for Best Health & Fitness Supplements Provider in the prestigious Life Sciences category, which includes ground-breaking research in medicine, discoveries in biology, and innovative work in the area of supplementation. Click here to read the article from the GHP Magazine.
Founder and Chairman of the Board David Lisonbee: "We have been committed to scientific innovation with 4Life Transfer Factor for nearly 20 years. That was our promise when Bianca and I launched the company in 1998 and our commitment is as steadfast now as it was then."
4Life has offices in 24 markets to serve a global network of independent distributors and their customers.
For more information:
Calvin Jolley
Vice President, Communications
4Life Research USA, LLC
[email protected]